Drawing in the landscape
Instructor: Stephen Philip Treherne
In this course we will explore imaginative possibilities through observational drawing in the landscape of the beautiful town of Heidenreichstein. With the aim of encouraging an individual and creative response to the challenge of drawing from nature we will complete a selection of drawings to be included in an exhibition. All ages are welcome.
We will be working directly from nature. The choice of subject whether it be a tree, part of a woodland or buildings etc. will be determined by the participant. Particular attention will be given to the structural elements that underpin a sense of the whole; light and dark (chiaroscuro), volume and void, scale and spatial awareness. Participants will be encouraged to work on a large format using charcoal, pen and ink rather than pencil but this will not be obligatory as it may not suit everyone's individual tendencies and methods. It is hoped that at the close of the session there will be an opportunity to discuss and share the work experience as a group. Emphasis will be placed on the value of an exploratory approach rather than a pre occupation for a finished result.
Date: September 10th, 2019, 9.30 – 13.00 h
Location: 3860 Heidenreichstein
Course fee: EUR 70,-
Please bring: a sketch book (large as possible) and drawing materials of your own choosing including ideally charcoal sticks
Instructor will provide:
charcoal sticks
fixative
large drawing boards
cartridge paper
easels
---
Instructor
Stephen Philip Treherne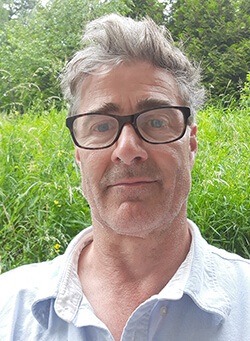 Born in UK 1958. English parents. Educated in Catholic Benedictine school (Ampleforth college). Attended Art school in London an later Hertfordshire University. Pupil of Miles Peter Richmond (student of David Bomberg). Lived and worked in London for 20 years. Settled in Tuscany, Italy, with wife and four children for 12 years before moving to Austria. Exhibited his work in London, Italy and Austria.